Had a tiring day yesterday but nonetheless it is a FUN day! 
Thing Thing (lollipop), Marli, Sherlyn and I decide to go out on a trip to Putrajaya to snap pictures of Palace of Justice and Putrajaya Mosque for out 3d class assignment since Sherlyn's cousin brother is so nice and generous to loan us his car. 
We took so many pictures of the buildings and many other funny pictures. Then ThingThing and I decide to go to the mosque to snap some pictures. Because both us aren't Muslim, we were told that we need to wear a "jubah" if i would like to step into the mosque to snap pictures. Since we are good visitor and due to our respect towards the religion, we decide to put on the "jubah" and this is how ThingThing looks like...
and this is how i look like.... 
then one tourist decide to come over to gave us a lecturer telling us that we are exposing too much "leg". So because of that, this is how ThingThing looks like ..............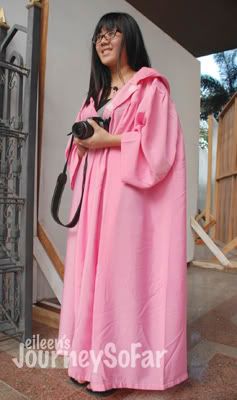 We had so much fun today! WHY?? Because everywhere we go, we did jumping shots

Below is the picture of us jumping in front of Palace of Justice and the Prime Minister's office
Click to enlarge

to see how crazy we are......
Then at night, we went to the first display of Malaysia International Fireworks Competition 2008. Malaysia is the first among 3 other contesting countries (China, Spain, Canada) in this competition to show off their display. Below are the pictures: 
*click on the picture for a larger picture* 
By the end of the day, I wanted to blog about it before i retire to bed.. but in the end, i decide to give it a pass since I was too tired ..... so off i went to bed .... 

I guess that's it for now.... will upload my photographs of my photography session at Putrajaya and the fireworks another day..... so stay tune!